Welcome
Welcome to the official website for the United States District Court for the Middle District of Louisiana.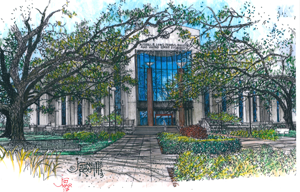 U. S. Marine Corps Reserve 100 Year Anniversary
On August 29, 2016, the U. S. Marine Corps Reserve will celebrate 100 years of dedicated service to the United States of America.  Since World War I, Reserve Marines have supported our country in every major conflict and continue to do so.  In honor of this anniversary, a series of events will be executed to highlight and recognize the contribution of the Marine Corps Reserve over the past century.  
The Louisiana Middle District proudly hosted Staff Sergeant Perez, Sergeant Christopher M. Kiss, Corporal Zachary S. Traylor, Lance Corporal Cornell Boyden, Jr., and Lance Corporal Joseph J. Piccione, II of the Marine Corps Reserve.  Staff Sergeant Perez and his fellow Marines interacted on site with courthouse employees.  As a special treat, courthouse employees were able to sit in two Marine vehicles:  a Humvee and a M939 Truck a.k.a. "5-ton".  The Louisiana Middle District recognizes the significant contributions of all Reserve Marines who have proudly worn the Eagle, Globe, and Anchor emblem.
 
---
Law Enforcement Torch Run® for Special Olympics Louisiana
On Friday, May 20th United States Attorney J. Walter Green, Deputy United States Marshals, United States Probation Officers, and other court personnel from the Louisiana Middle District participated in the Law Enforcement Torch Run®.  Participants and supporters gathered on the front steps of the State Capitol while Governor John Bel Edwards and other local dignitaries addressed the crowd before the run.  The three mile run, carrying the Special Olympics torch, through downtown Baton Rouge started and finished at the State Capitol. 
The Law Enforcement Torch Run® for Special Olympics Louisiana, or LETR, unites officers from law enforcement agencies and corrections departments across the state in an effort to raise funds and awareness for Special Olympics Louisiana.   Each summer, law enforcement officials carry the "Flame of Hope" across the state culminating with the Torch Run Final Leg and the lighting of the cauldron to officially open the Special Olympics Louisiana Summer Games in Hammond. This torch relay involves more than 1,500 law enforcement officers and  personnel representing more than 200 law enforcement agencies across Louisiana. The officers join together to spread awareness of the capabilities of people with intellectual disabilities.
 
---
Court Locations
Russell B. Long Federal Building and United States Courthouse
777 Florida Street
Suite 139
Baton Rouge, LA 70801
Clerk's Office General Info:
(225) 389-3500 phone
(225) 389-3501 fax
Electronic Case Filing Helpdesk:
1-866-558-6631
or (225) 389-3552
Other Resources