Senior District Judge James J. Brady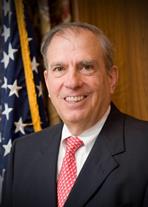 Statement from Chief U. S. District Judge Brian A. Jackson
The judges of the United States District Court for the Middle District of Louisiana mourn the loss of our esteemed 
colleague and friend, 
Judge James J. Brady. Judge Brady's remarkable career as a federal judge was exemplary and his 
commitment to providing equal justice 
under the law resonated throughout his career as a lawyer and a judge.  He will 
forever be remembered for his extraordinary integrity, 
compassion and devotion to the rule of law.
The U. S. District Court for the Middle District of Louisiana is currently planning an en banc court ceremony honoring Judge Brady with a date to be announced in the near future.
NOTICE: JURY SCAM
The U.S. Marshals Service is warning the public of an ongoing jury-duty phone scam where the scammer poses as a U.S. Marshal, deputy marshal, or other law enforcement officer. The scammer calls the victim to advise that he or she has missed federal jury duty, but can avoid arrest by paying a fine immediately.
The scammer will provide information such as titles and badge numbers of a legitimate law enforcement officer or court official, names of federal judges, and courtroom addresses in an attempt to make the scam appear credible. Scammers are even spoofing their phone numbers to appear on caller ID as if they are from the court or a government agency. The U.S. Marshals have received several calls inquiring about this scam over the past few days, and are advising that the public needs to know that this is a scam. If a person receives a jury duty related call, they should not provide any personal identification or money to the caller. Federal Courts do not call prospective jurors or ask for money or personal identification information.
Anyone that receives a "Jury Duty Scam" phone call should report it, with any available caller ID information, to their local United States Marshals Service office, or the local FBI office.